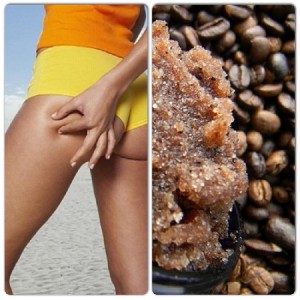 Probably almost every woman is acquainted with a grinded coffee body scrub. What is the way of preparing such a home-made cosmetic? You will need the following ingredients: a half of glass of grinded coffee, the same quantity of white sugar, two spoons of linseed oil and just several drops of a shower gel. In fact, you should adjust the amount of coffee and sugar accordingly to the body part you are going to apply your home-made body scrub on. Moreover, the size of sugar crystals has also be suitable for type of your skin. If you have sensitive, extremely damaged, dry or capillary skin, use fine-grained sugar only. The other skin types can be treated with sugar of coarse-grained crystals. Naturally, the number of spoons of linseed oil and drops of the shower gel should vary accordingly to the amount of sugar and coffee you decide to use. In short, add the liquids only to create a mixture of not too watery yet not too dense consistency.
How does coffee body scrub work? In general, a body scrub's aim is to exfoliate dead epidermis cells, smooth skin surface, highlight discolourations and boost blood circulation in skin cells. However, its working depends on the composition. To illustrate, caffeine, included in coffee beans, has stimulating, contracting, warming up and speeding up metabolic rate features. Linseed oil, in turn, is rich in E vitamin, which is known as the vitamin of youth. What is more, this vitamin is able to delay the processes of skin ageing, makes skin more elastic and has anti-free-radicals working. Additionally, linseed oil contains Omega 3 acids. These substances are natural antioxidants that improve skin look, moisturise and facilitate treating and curing dermatological problems.
How to prepare and how to use coffee body scrub? Suffice to mix all the substances enumerated above, making these merge with each other. After that, you can apply the home-made coffee body scrub on the body parts affected by cellulite, so, for example on tights, buttocks, belly, breasts and shoulders. Rub the body scrub using circular movements, starting with lower limps heading towards heart. Next, rinse your home-body cosmetic with warm water and apply a firming and moisturizing body balm. Perform this kind of the treatment once a week for about one month. The only contraindications to coffee body scrub are broken capillaries, severe skin damages or allergy to any of the ingredients.
Tags:
anti-cellulite
|
body
|
coffee
|
diy
|
e vitamin
|
Home-made
|
linseed oil
|
scrub