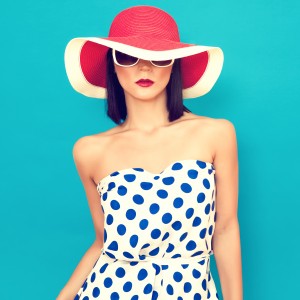 Can make-up beautify and protect our skin at the same time? Yes, it can! It all depends on the type of cosmetics we use, the properties of the products and whether we are able to apply make-up the right way.
Make-up base is a colour cosmetic that has to be put on a face as the first one. Primarily, such products provide durability of an upcoming foundation. What is more, make-up bases have also other significant features. For instance, these can even skin tone, smooth, protect from solar radiation and nourish. Additionally, make-up bases contain UVA and UVB filters as well as plenty of vitamins and minerals. Worth mentioning, some make-up bases' composition is enriched with silicones that facilitate distribution of a foundation and shield face against both the sun and negative temperatures.
Foundation is a compulsory accessory each make-up bag should contain. Point often overlooked, this kind of a product has to be changed accordingly to both a season and skin type. During the winter, a foundation must be of thick consistency and during the summer its texture should be way lighter and enriched in sun protection filters. When it comes to acne skin type, the foundation should own anti-bacterial properties. Mature skin type, in turn, should be covered with a foundation containing E vitamin, whereas, sensitive skin type requires an easing colour cosmetic etc. O.K., that was about the protection, now something about beautification. In order to make our face skin look more attractive, we have to pick the right shade of the foundation. In general, it should be a tone lighter than our natural skin tone. Having this in mind, a foundation has to change together with the passing seasons. Similar rules should be applied to a powder or a blusher. These are the cosmetics that are able to highlight our face skin, protect it form solar radiation and reduce sebum production.
We cannot forget about our mouth! Lips are covered with sensitive and delicate skin, which is exposed to icy air, solar rays as well as mechanical and chemical damages. Therefore we should take advantage of lip balms of moisturizing properties that are available almost everywhere. Worth mentioning, we should also check if the particular lip balm contains vitamins and UV filters because these substances are crucial for our lip care. Basically, you can also use lipsticks and lip glosses, however, stay away from the colour cosmetics that makes lip skin dry.
Tags:
base
|
beauty
|
care
|
face
|
foundation
|
lips
|
make-up
|
protection
|
tips