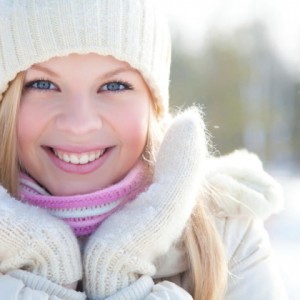 Capillary skin.
This kind of face skin type is extremely sensitive to temperature changes, pollution as it is particularly prone to irritations. It can be recognized by easily visible broken capillaries, redness and acne rosacea. Since capillary skin is sensitive, it requires special care. For that reason, the cosmetics applied should have moisturizing and relieving properties. What is more, these products cannot contain aggressive agents or warming-up substances (i.e. alcohol, menthol, cinnamon and ginger). Moreover, it is advised to use oils or cosmetic butter. It is also suggested to make linseed compresses at home. Add a tablespoon of linseed to water and boil it for approximately quarter of an hour on low heat. When the mixture cools down, you can apply it on the face. You can rinse the home-made cosmetic after more or less fifteen minutes.
Acne skin.
How to take care of acne skin the right way during the winter? Impossibility to obtain sufficient amount of sunlight results in face skin becoming covered with more and more red spots. Acne skin type, as any other skin type, requires proper manner of moisturization. However, it is crucial to do it wisely since too great amounts of hydrating or oiling substances may produce adverse results. To put it differently, skin may start producing excessive amounts of sebum under the influence of thick layers of the cosmetics. The same outcome might be brought by the use of cosmetics of drying properties. Under those circumstances, it is a good idea to use oils regularly. Suffice to distribute only a few drops of this care products on a palm of the hand and pat it into face skin afterwords. Additionally, oils nourish and help skin with regenerating.
Dry skin.
It is hard to take care of dry skin in winter. This kind of skin demands greater attention because it is prone to damages and irritations. The most harming are low temperatures, strong dead skin epidermis exfoliation, and frostbite. People, who have got dry skin, are advised against using creams and cosmetics of mattifying properties. What is more, they should equip their make-up bags with oil creams of protective features, cosmetic butter, and Vaseline for lips. Furthermore, oils are fairly popular for taking care of this skin type.
Combination skin.
It takes a lot of skills to take care of this kind of skin properly because it is composed of two skin types: normal and oil. For that reason, it is suggested to include moisturizing and anti-bacterial products into morning and evening skin care routine. Furthermore, combination skin reacts well on cosmetics destined for sensitive skin as well as on natural products, including herbal face masks and home-made infusions. Colour cosmetics should be selected alike.
Tags:
acne skin
|
capillary skin
|
care
|
combination skin
|
dry skin
|
face
|
winter