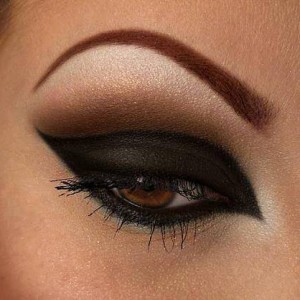 Indeed, smoky eye make-up style is known to every woman. But do you know how to do it correctly? Check, whether you were applying eye shadows the right way. If the answer is negative, you can stick to the hints listed below and enjoy your perfect eye make-up.
Start with morning skin freshening up. Do it using a toner containing citruses since these fruits have energizing properties which will help you wake up faster. After that, apply the colour cosmetics. The first one is an eyebrow shadow from NYX Eyebrow Palette. Choose the shade that resembles your natural eyebrow colour at most. Aid yourself in that using a flat brush. Next step, apply a bright concealer under eyebrows and above eyebrow arches in order to highlight eye skin area. Fix the little hairs located above your eyes with Maybelline Brow Gel. Why bothering about eyebrows if smoky eye concerns eyelids? Point often overlooked, eyebrows have to be precisely defined to harmonize with the eye shadows. Only then will you gain the look you are searching for.
Now, let us start focusing on eyes. At the beginning, cover your eyelids and above the crease area with MAC Paint Pot, an eye shadows primer. Remember to match the colour of the cosmetic with your skin tone. It is advisable to fix the product with a transparent powder. Our smoky eye style will be performed using dark eye shadows, therefore is is worth protecting under eye area with a tissue or a cotton pad. Now, reach for NYX Love in Paris Palette and choose the shade of caramel colour and apply it on the crease of the eyes. Then, sweep the brush over the chocolate bronze shade with sparkling particles and put it on the same place, blending the shades on almost the whole surface of eyelids. Next, cover eyelids only using the same shade, yet in a matte version. Do alike, putting on the black eye shadow, however, gather a scarce amount of it. Time for the sparking black gel eye shadow – apply it on eyelids. After that, draw lines on eyelash base using a black eyeliner. Reach for Chubby Lash mascara from Clinique and define the eyelashes. It is also suggested to apply false eyelashes. Take off the tissue or the cotton pad and finish your make-up.
Use L'Oréal Infallible Mattifying Base, before you apply a foundation, because this cosmetic will even your skin tone and prolong durability of the whole make-up. Now, cover your face using Charlotte Tilbury foundation and do not forget about neck and ears. Reach for a concealer and camouflage all skin imperfections as well as dark circles under eyes. Blend it with the foundation. Now, contour your face using a bronzer and a brighter highlighter. Obviously, bled all the products using either a sponge or a brush. After that, apply a blusher and a pressed powder. Thanks to this procedure, you will fix the make-up making it more durable. At the end, contour your lips with Charlotte Tilbury and then fill it with Dr Rescue lipstick by Maybelline. Look in the mirror. Your black smoky eye style with sparkling accents is now ready!
Tags:
black
|
eye
|
face
|
make-up
|
smoky
|
step