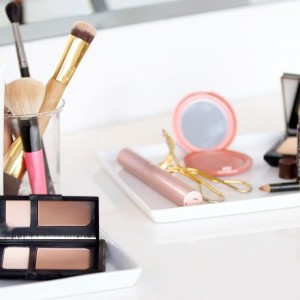 1. Lipstick on cheeks.
Red lipstick is a real hit this season. But did you know that this colour cosmetic does not have to be applied on lips only? You can use it instead of a blusher. What is more, a lipstick is also good for eye make-up – you can put it on eyelids, smudge with your finger and the lipstick will look like eye shadows. If you take a pearl lipstick of creamy shade, then you can use it as a luminizer. What are the other roles that can be played by your colour cosmetics stored in the make-up bag? For example, apply eye shadows instead of an eye pencil (and the other way round, an eye pencil instead of eye shadows). Moreover, you can cover your lips with a foundation for two reasons. Firstly, to use it as a kind of a primer for a lip-gloss, and secondly, for transforming it into a product that covers your lips with a nude colour. When it comes to another product – a pressed luminizer, apply it on inner corners of the eyes, on cheekbones and under eyebrow arches. Thanks to this, your look will be brighter and eyes highlighted. What is more, you will create the illusion of having bigger eyes.
2. Do not overdo with fluid.
Contrary to what you might expect, you do not need to apply several layers of a fluid in order to look pretty, young and fresh. The less, the better. In fact, a face covered with a few layers of a foundation looks simply unnatural and dates you. What is more, fluid is also good for face contouring. To do it, use two shades of the same product. Cover only some parts of the face with the foundation that you use on daily basis. When it comes to cheekbones, nose, temples and chin, cover these with the luminizing version of a fluid. If you manage to do it skilfully, your face will be highlighted and contoured neatly.
3. Ideal eye line.
Are you not able to draw a perfect line on upper eyelid? Do not worry, here is an easy technique that will make it easier for you. If you are going to draw a thick line, use a liquid eyeliner and a matte black eye pencil. Take the eyeliner first and mark an outline of the eyelid together with the line that will be longer than eyelash base. Next, reach for the eye pencil and fill in the outline. Such a make-up will be durable and neat.
4. Cosmetic application.
Creams, make-up removing gels, foundations, blushers and eye shadows – all of these cosmetics can by applied using your fingertips. All you have to do is pat the products gently. Doing that, the cosmetics will melt into skin way better and reach deeper into skin (for example, moisturizing creams). It is also worth mentioning that thanks to patting, you will provide your face with a kind of a massage.
5. Matt not always necessary.
If you have oily or combination skin type, and when your skin shines all day long, then using some kind of mattifying techniques will be justified. However, do you know how to matte your face skin appropriately? It is worth realizing that too thick layers of a mattifying powder will make you look a few years older than you really are. In fact, radiant and shiny face is the synonym of youth and freshness. Yes, this is true, however, it has to be the healthy shine not just oily spots. For that reason, do not hesitate to use a mattifying powder yet do it wisely. If it happens that the brush gathers too much of this cosmetic, dust it off and then dab the face with the product.
Tags:
combination
|
eye line
|
face
|
fluid
|
foundation
|
hints
|
lipstick
|
make-up
|
matt
|
matte
|
mattifying
|
oily
|
perfect
|
skin
|
techniques
|
tips